The Affair

by J.L. Berg
Published by Self on 2/13/20
Genres: Contemporary Romance
Buy on Amazon US | iBooks | Kobo
Goodreads


Find the Author: Website, Twitter, Facebook

There are some paths in your life you're never meant to take.

Yet, by some twist of fate, you find yourself on the forbidden road all the same.

Those are the words I stumble upon when I unearth a hidden journal that once belonged to my grandmother.

A hidden journal that details a heartbreaking affair with her husband's brother. It's a family secret I'm unprepared to deal with, especially when my own life begins to parallel hers.

Sawyer Gallagher was never on my radar. The moment I met his younger brother, I was taken. Done for. Love-drunk.

But, some things aren't meant to last and at the age of thirty-three, I find myself divorced, penniless and living with my parents. When Sawyer stops by our family's antique store, asking for a job, I figure: Why the heck not? Life can't get much worse.

It doesn't take long to realize just how different the Gallagher brothers are. Sawyer is kind, supportive, and, oh, did I mention sexy as hell?

In a small town like ours, I can't help but ask myself…

Can I fall for my former brother-in-law?

Or is this just history repeating itself?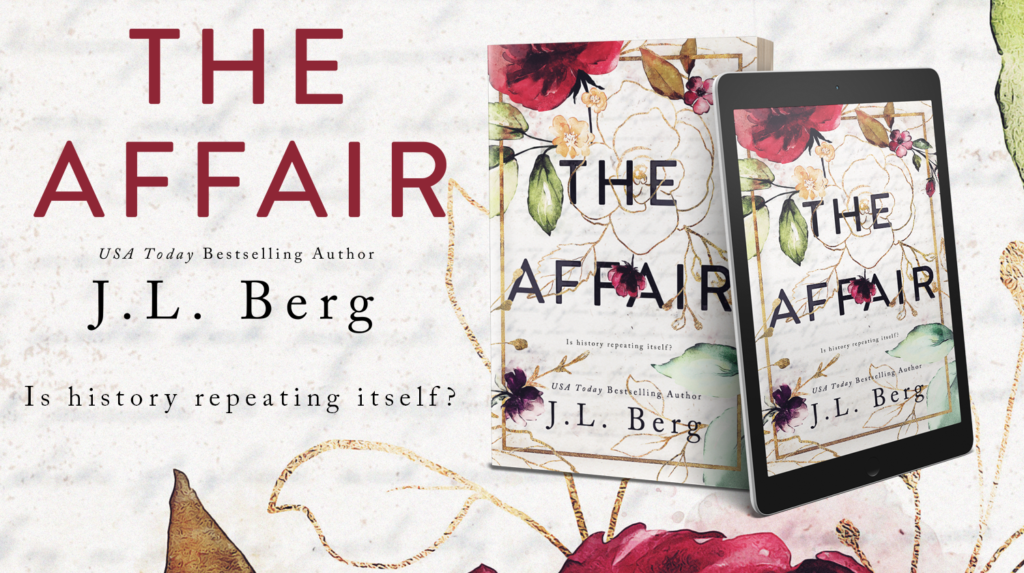 🔥🔥 HOT NEW RELEASE 🔥🔥
The Affair by J.L Berg is LIVE!! #OneClick today!!
As soon as I read the blurb for The Affair by J.L. Berg I knew I wanted to read it and I was not disappointed. A story about second chances, loss, grief and fresh starts. Elle is starting over after a difficult divorce, the loss of a parent and taking over the family business. She seemed to be a bit lost and struggling. Sawyer just stole my heart. He was caring and sweet and just what she needed. But will their history always be between them? The Affair by J.L. Berg was emotional, slow burning and touching story.
PURCHASE LINKS
Amazon: https://amzn.to/2ONYH7p
Universal: mybook.to/theaffair
iBooks: https://apple.co/33sDYeM
B&N: Coming Soon
Kobo: http://bit.ly/2Nv7XNR
Google Play: http://bit.ly/2rssbPF
Goodreads: http://bit.ly/2roej8V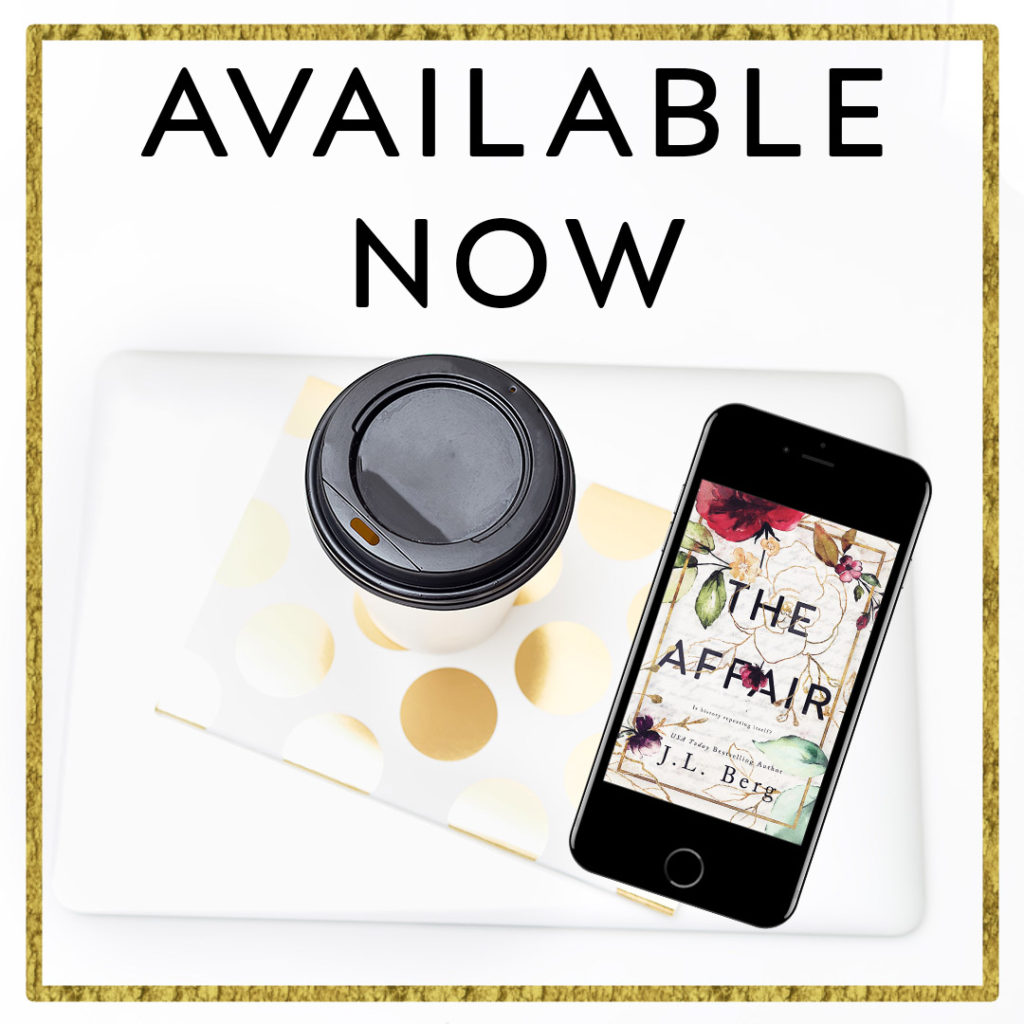 EXCERPT
It had been ages since my feet graced the concrete of this street.
A year ago, I used to walk this familiar path several times a day. I could count the steps between our front door and the antique store and the café. It was the perfect little house, right in the middle of town.
My parents' house, on the other hand, was on the outskirts, and in order to get anywhere, you had to drive. I hated that, especially as a kid. When you were little, you wanted instant gratification, and being even ten minutes from friends and fun was too much. I hadn't lost that feeling when I got older, so being able to walk to the market for a head of lettuce or walk hand in hand with my husband to the café for an impromptu brunch, that was my idea of bliss.
Or at least, it had been.
Now, the little white house was a stark reminder of everything I'd had. And lost.
My heart began to race when I got within eyesight of it. I saw the mailbox first—the royal blue I'd chosen that first year of marriage. I'd agonized for days over the perfect shade. Reed had laughed, not understanding the difference between any of them.
My stomach turned as I thought of it now.
Look straight ahead, Elle.
Don't think about the mailbox.
Or the young, blonde woman walking out of the house … wait, what?
My feet faltered, and I nearly tripped.
There was a woman in my house.
It's not your house anymore, I reminded myself.
I tried not to look, but I couldn't help but notice how familiar she seemed with it all. The way she stepped off the threshold and locked the door with ease, tucking the set of keys into her purse without thought. She waved to Mr. Flannigan next door, who was watering his award-winning roses. I watched in horror as he smiled and gave a friendly wave back.
My throat burned, and my eyes stung.
I thought back to that moment at the funeral when Reed's lips parted, and those unspoken words sat frozen in time.
I'd always assumed he was waiting for the perfect time to say I'm sorry or I'll never stop loving you, but in reality, perhaps he was just trying to muster the courage to tell me the truth.
He'd met someone.
He'd moved on. It seemed there'd been a lot of that going on lately.
Suddenly not in the mood for coffee, my stomach turning more sour by the second, I turned and bolted for the antique store. I didn't bother checking to see if the mystery woman saw me.
There was a reason I never walked down this street.
Too many memories.
Too much pain.
And right now, I'd had enough of both.
TEASERS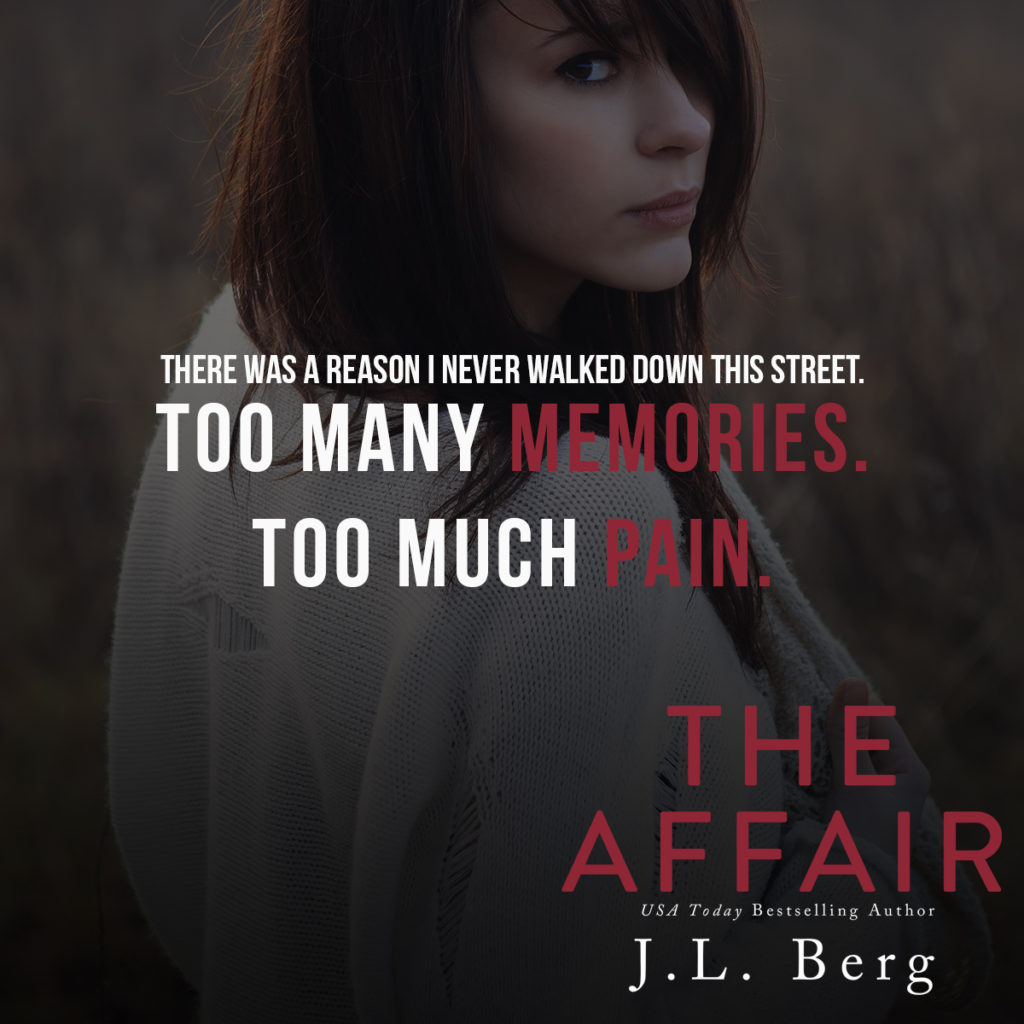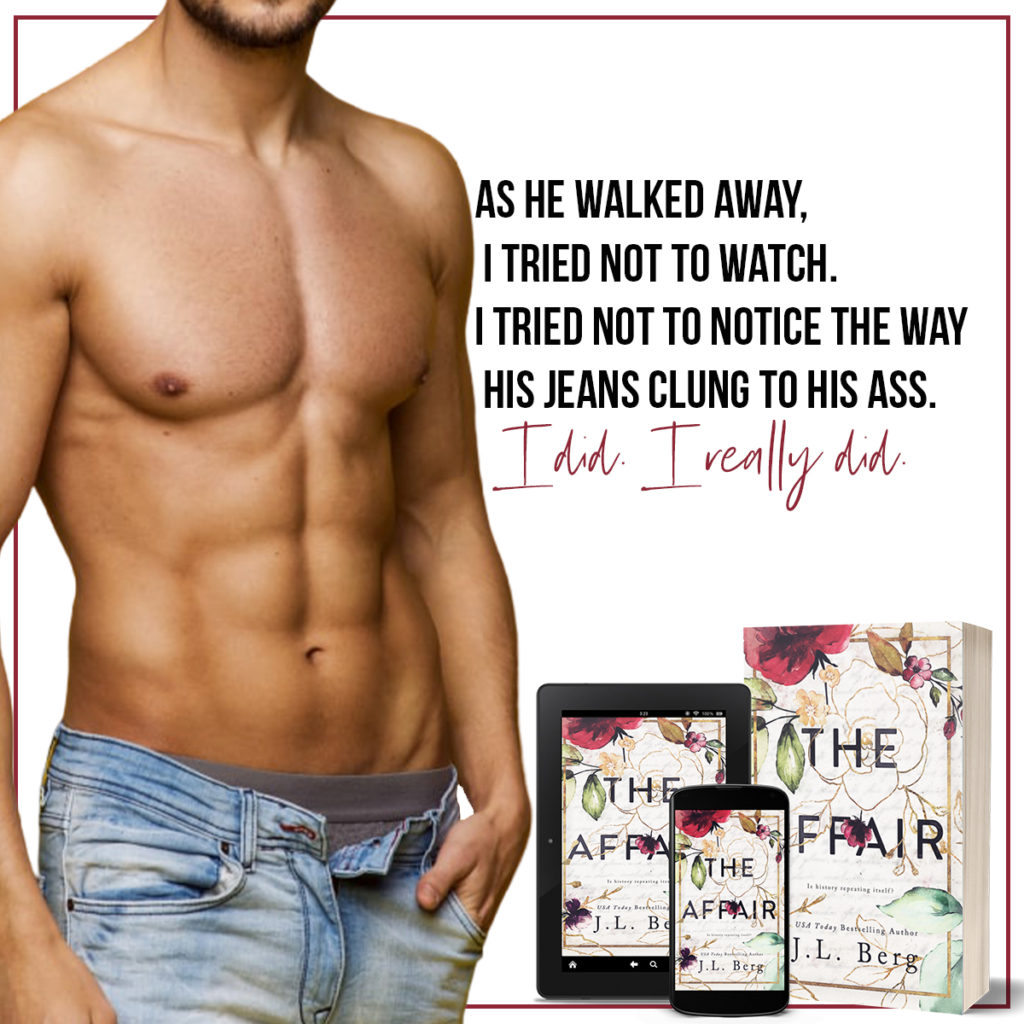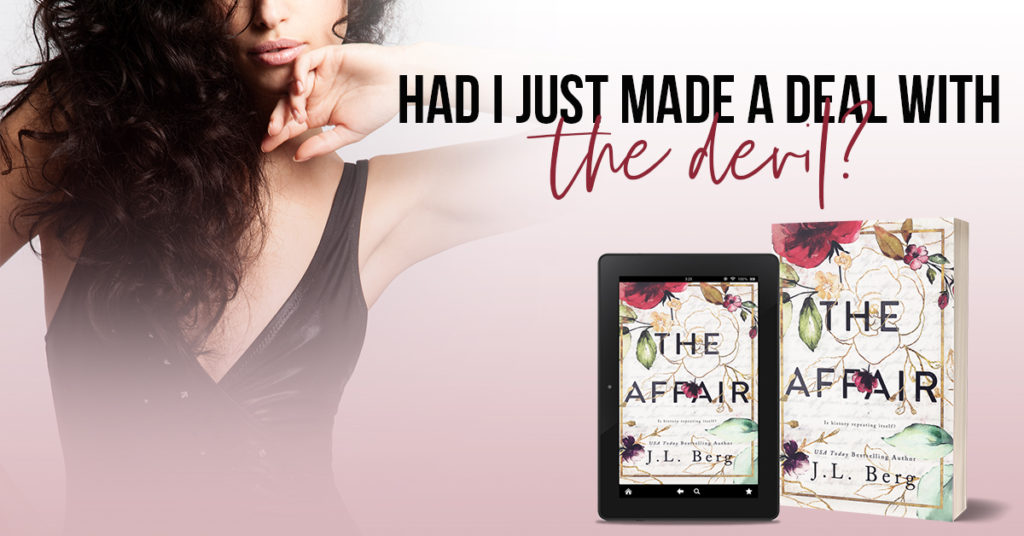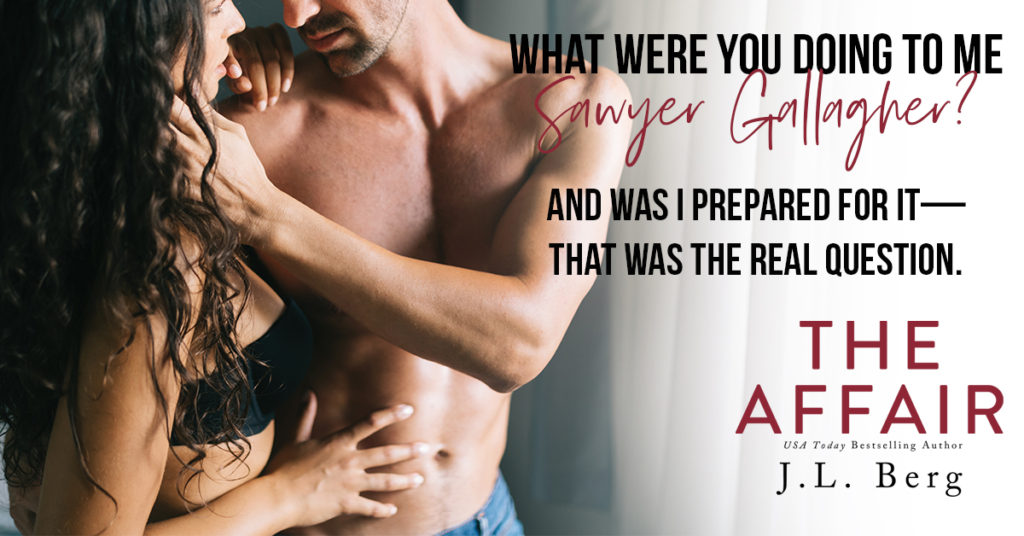 GIVEAWAY
To celebrate the release of The Affair, J.L. Berg is giving away a $25 Amazon gift card! Head to her Facebook page to enter: https://www.facebook.com/authorjlberg/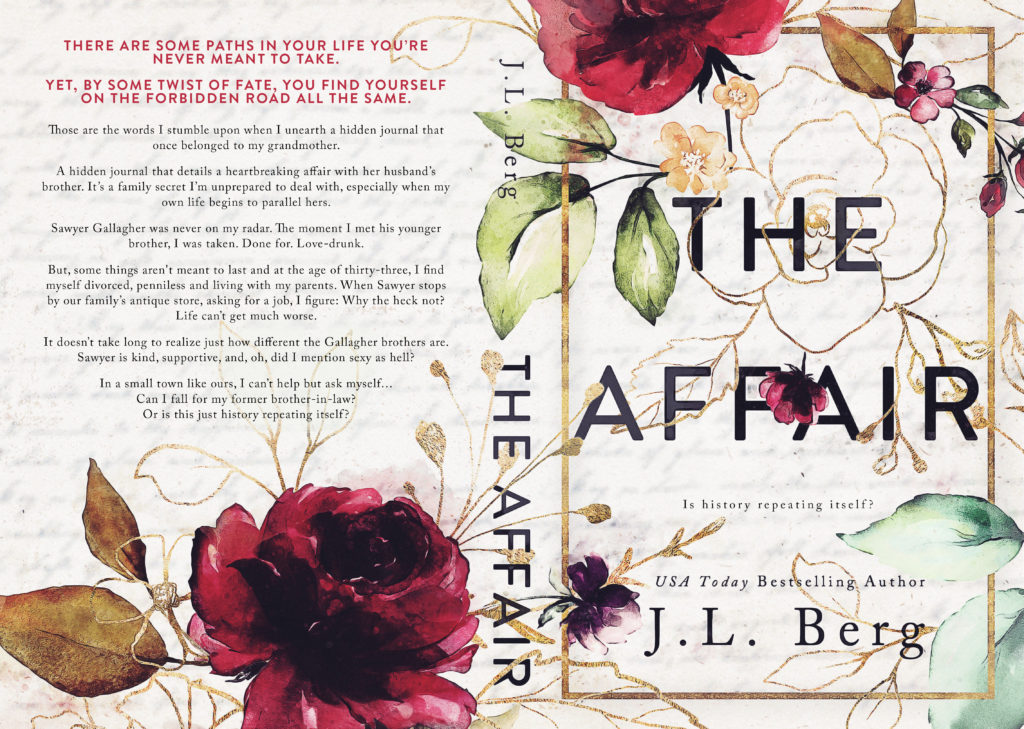 Related Posts