Dirty Cowboy

by Erin Trejo
Series: A Cocky Hero Novel
Published by Cocky Hero Club on 6/14/20
Genres: Contemporary Romance
Buy on Amazon US | Buy on Amazon UK
Goodreads

Also in this series:
Royal Pain
I was at the top of my game. I knew who I was and what direction my life was headed. I owned the most prestigious night clubs down the east coast yet I kept my identity a secret. I don't like being in the lime light and my hometown was none of anyone's business. However, making people happy was. I did that with my clubs. Until the day tragedy struck my family. I had a choice to make and it wasn't an easy one.

At the end of the day, family always comes first. I went home to take care of my mom and the ranch. I didn't plan on that little smart mouth Hope showing up with a laptop in hand. Just out of a cheating relationship the girl was hell bent on hating all men. Me included. Hating me wasn't the only thing she came back home for. She needed a quiet place to write her next article. Her interest? The man that suddenly closed down all the upscale clubs on the east coast.

I wanted to be anonymous for a reason. I didn't want the cameras and all the tabloids in mine or my family's business. So, I don't give her anything. Well, nothing she wants anyhow.

I give her the cowboy, the man that I've once again become with the dirty mouth. Until she learns the truth and wants to run with it. I should have known that a second chance at love wouldn't happen for me. All fairy tales have to end, right?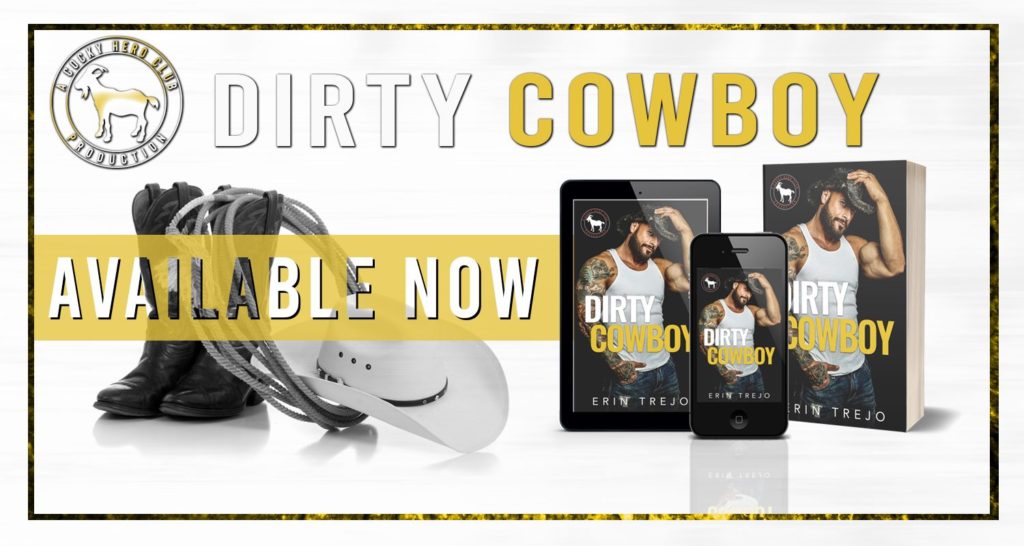 🔥🔥 HOT NEW RELEASE 🔥🔥
Dirty Cowboy by Erin Trejo, part of the Cocky Hero World by Penelope Ward and Vi Keeland is LIVE! #One-click today!
Dirty Cowboy by Erin Trejo is a Cocky Club Hero novel and a new to me author. Gentry is back home to take care of family. Though a successful businessman, he keeps each part of him separate. He likes his anonymity. Hope needs to get away and get the scoop she needs for her story. She is determined and feisty. Neither saw the other one coming. Gentry and Hope have history and chemistry neither can deny. They each carry baggage from their past that weigh them down. Can they open up enough to see what is in front of them? A sweet second chance romance by Erin Trejo.
Add to Goodreads: https://bit.ly/35L71fz
PURCHASE LINKS
Amazon US: https://amzn.to/3e0vUXQ
Amazon UK: https://amzn.to/3fkQRgr
Amazon AU: https://amzn.to/2C1377v
Amazon CA: https://amzn.to/2AwLFr9
TEASERS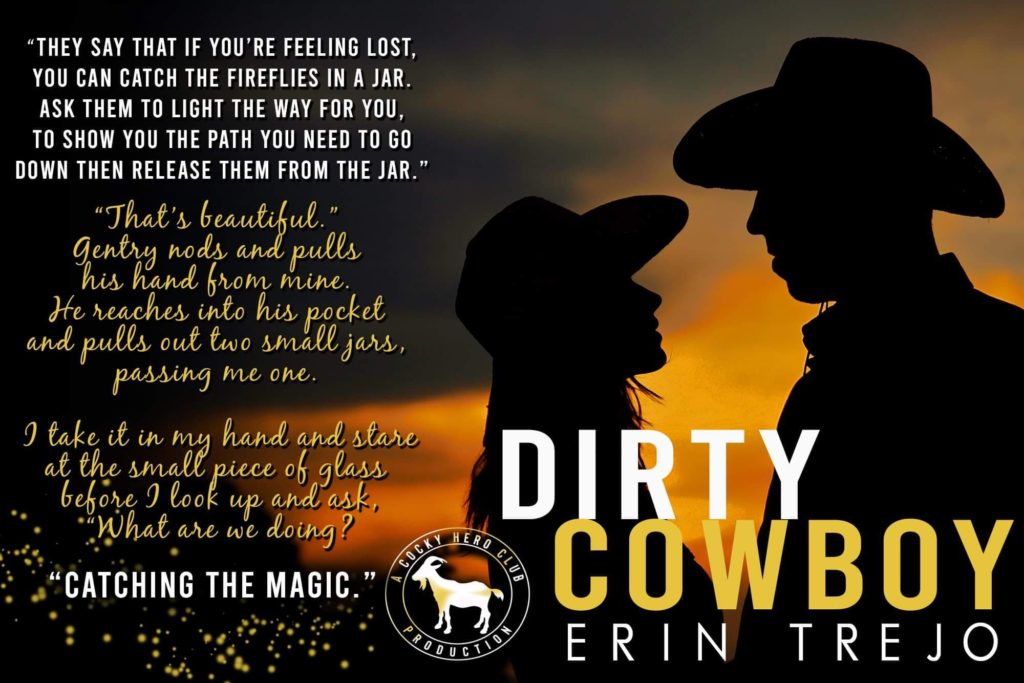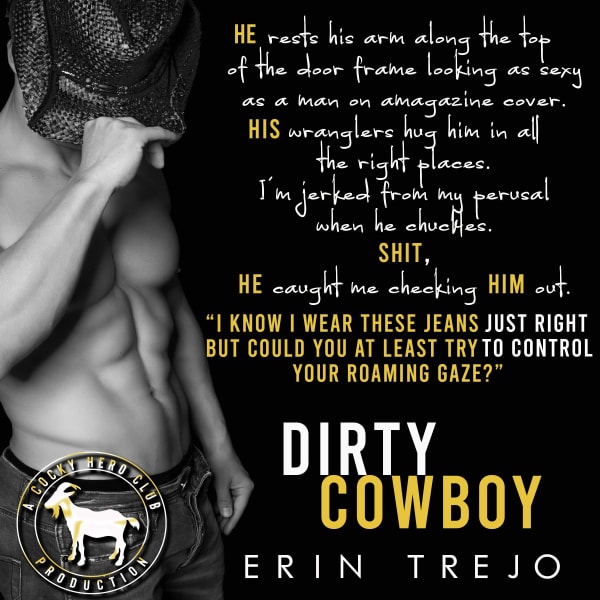 EXCERPT
"The Chinese once thought that fireflies were burning grass. They would catch them and keep them in jars, using them as lanterns. The Japanese legend though, thought they were the souls of the dead. There's a little magic history in them too," he says, his eyes trained out at the water.
"What's the magic?"
"They say that if you're feeling lost, you can catch the fireflies in a jar. Ask them to light the way for you, to show you the path you need to go down then release them from the jar."
"That's beautiful." Gentry nods and pulls his hand from mine. He reaches into his pocket and pulls out two small jars, passing me one. I take it in my hand and stare at the small piece of glass before I look up and ask, "What are we doing?"
"Catching the magic. Some days I think I'm lost and I don't know what way to go. Some I know my fate. Today is one of those I'm not so sure about. I think we could both use a little magic, don't you?"
ABOUT THE AUTHOR
USA Today Best-Selling Author.
Erin is an author of all things Alpha. Her specialty is MC romance but loves to dip into dark romance too. She will weave you a story that will have you gasping for air as you try to figure out what's going to happen next. All of Erin's books will have some form of romance as well as suspense. With that being said you need to keep in mind that Erin's saying is always true. Fairy Tales Don't Always Have A Happy Ending. Do you think you're ready to take the plunge into Erin's world?
AUTHOR LINKS
Newsletter: http://bit.ly/ErinTrejoNewsletter
BookBub: https://www.bookbub.com/authors/erin-trejo
Facebook: https://www.facebook.com/authorerintrejo/
Facebook Readers Group -Fire and Ice https://www.facebook.com/groups/1177887305577544/
Amazon: https://www.amazon.com/Erin-Trejo/e/B00U0RXH80/
Twitter: https://twitter.com/trejo_erin
IG: https://www.instagram.com/authorerintrejo
Related Posts