Make Me Hate You

by Kandi Steiner
Published by Self on 6/25/20
Genres: Contemporary Romance
Buy on Amazon US
Goodreads


Find the Author: Website, Twitter, Facebook, Goodreads, Amazon, Newsletter

Make Me Hate You, an angsty, emotional stand-alone romance from bestselling author, Kandi Steiner,is LIVE!

If he kisses me right now, I'll drown.

Every sip of air is shallow and burning, because in the arms of my best friend's brother, I'm the closest I've ever been to sin.

His eyes flick to my lips, and I remember the first time I tasted him, seven years ago before I left this town and vowed never to return. His hands grip my waist, and I remember the pain when he rejected me, when my entire world crashed down at his command. His jaw clenches, and my senses come alive with one stinging reminder.

I'm not his to kiss, and he's not mine.

I tried to stay away from Tyler Wagner, putting an entire country between us. But when his sister's wedding brings us back to the same town, to the same house, I can't avoid him, no matter how hard I try.

He's always there, his dark eyes bewitching, luring me into their depths. The memory of us pulls me under like a rip current, and when he flashes that smile, I lose my breath, along with my will, unable to escape his grip and find the surface.

Now, hours before our plus ones arrive for the wedding, I'm in his arms, begging him to make me hate him, knowing he never could.

If he kisses me right now, I'll drown.

And I'll take him down with me.

Make Me Hate You is a best friend's brother romance that will have you on the edge of your seat from start to finish.

I absolutely love reading anything from Kandi Steiner. Her writing is captivating, emotional angsty and definite must-reads. So, I was very excited to read Make Me Hate You as soon as it hit my Kindle. Let me tell you, not sure how my heart survived! The feels! I have no words.
Jasmine and Tyler have history. History that drove her miles and years away. But now her best friend and Tyler's sister is getting married and she needs to be there. She can just ignore him, right? But the chemistry and connection they share is still undeniable. Jasmine is strong and determined, but her heart could never fight Tyler. Tyler is charming, handsome and just as determined. So much time, history and new lives are between them, there is no them anymore, right? Make Me Hate You by Kandi Steiner was an emotional and angst-filled second chance romance that will make you feel. I could not stop reading.
Pre-order today!
Amazon: https://amzn.to/3eBSlmE
Amazon Worldwide: http://mybook.to/MakeMeHateYouKS
Add to Goodreads: https://bit.ly/2Xo2Gg1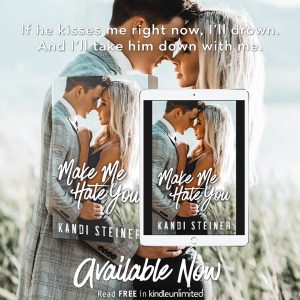 Excerpt:
Seven miles and an hour later, and all the anxiety I'd felt the night before was completely gone.
At least, until I rounded the foyer into the kitchen and saw I wasn't the only one up early on Sunday morning.
Tyler sat at the kitchen island, still in his navy blue sweat pants and simple white t-shirt, with one foot planted on the ground and the other hooked casually on the lower bar of his stool. His hair was an absolute disaster, the boyish waves sticking up this way and that. He had both hands wrapped around a mug of hot tea, his eyes focused on the iPad he had propped up in front of him, and BlueTooth headphones in his ears.
At first, he didn't notice me, and I slowed my steps, standing silently at the entry of the kitchen and watching him. I'd done everything I could last night to avoid his gaze, to not look at him, and now that I had a stolen moment to observe, I found my chest tightening again, my mouth dry and sticky.
His brown eyes were hidden beneath bent brows, expression serious as he watched whatever was on the screen. Small lines creased the edges of his eyes — lines that weren't there when we were kids. He'd grown into a man somehow, overnight, it seemed. Then again, it had been years.
I'd seen him on social media, watched from afar as his YouTube channel took off. I'd seen pictures of him on Instagram — traveling through Europe, hiking in Australia, swimming in hot pools in Iceland. I didn't follow him, of course, but his profile was public, which allowed me to flip through picture after picture on the nights when I was a pathetic mess.
But, pictures and videos didn't do justice to the actual man who sat studiously at that kitchen island.
He was something between the boy I used to love and the man I'd never know, familiar and unreachable all at once.
Tyler shook his head at something, letting out a frustrated sigh and kicking back the bar stool a little before taking a sip of his tea. His eyes flicked to me then, back to the screen, and then, he did a double take, this time fixing his gaze on me and leaving it there.
Something changed in his eyes when he looked at me, like a shadow passed over them and held him captive. I was dressed in jogger shorts and a modest tank top, but from the way he watched me, I might as well have been completely naked.
That's what his gaze did to me, what it always had done.
It stripped me bare.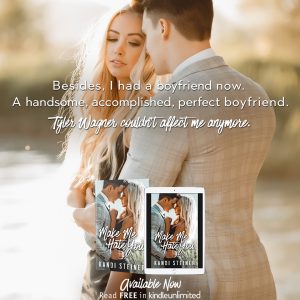 Related Posts