Hacker in Love

by Lauren Rowe
Published by Self on 5/5/23
Genres: Contemporary Romance
Buy on Amazon US
Goodreads

Secrets. Everybody's got 'em, including me. Especially me.

The difference is mine will never be revealed, whereas I can easily get yours, assuming the price offered by your enemy is right and the scales of justice appeal to my personal standards of ethics. Easy peasy lemon squeezy. The thing that's not so easy for a shy guy like me? Finding Ms. Right and locking her down.

Speaking of Ms. Right, the very night I was set up with Hannah Milliken by our mutual friend, I knew I'd one day kneel before her with a ring in hand. Hannah's the kind of girl who'll gleefully dance like a gorilla with me in the coolest nightclub or belt out a karaoke duet from Grease like her very life depends on it. She's gorgeous, too. Funny and smart. And she even wears librarian glasses. See? Perfect.

I don't doubt Hannah's the one for me. Indubitably, she is. I only wonder how a dork like me could possibly land a goddess like her.

Unfortunately, when catastrophe strikes, all my questions are rendered moot. Now that Hannah knows the truth about me not actually working in cybersecurity—as well as the questionable things I've done to win her over—will I lose my dream girl forever, or is there still a chance for us to chase our happily ever after?

Hacker in Love is a steamy, funny, heart-pounding, standalone contemporary romance with a whole lot of feels, laughs, spice, and swoons by USA Today and internationally bestselling romance author Lauren Rowe.
Hacker in Love by Lauren Rowe was such a fun and enjoyable read. This is my first read by this author in this world and I was comfortable and did not feel like I missed anything but am excited to read more about some of the characters introduced. Henn is considerate, smart, funny, and just plain adorable. Hannah was sweet, kind, and quirky. I truly loved both characters so much. They were perfect for each other in so many ways and their chemistry was undeniable. But for all their best intentions, new relationships are hard and communication is everything. Their journey was fun, emotional at times and just plain charming. It was steamy, fun and such a delightful read!
Grab Your Copy!
https://amzn.to/3B2cbo1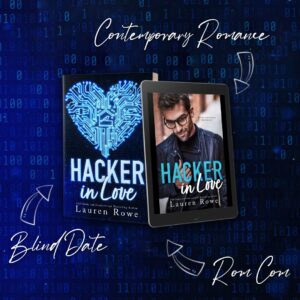 Meet Lauren Rowe:
Lauren Rowe is the USA Today and international #1 best-selling author of bestselling Standalone Smitten, The Reed Rivers Trilogy, as well as The Club Trilogy, The Josh & Kat Trilogy, The Morgan Brothers Series, Countdown to Killing Kurtis, and select standalone Misadventures.
Lauren's books are full of feels, humor, heat, and heart. Besides writing novels, Lauren is the singer in a party/wedding band in her hometown of San Diego, an audio book narrator, and award-winning songwriter. She is thrilled to connect with readers all over the world.
To find out about Lauren's upcoming releases and giveaways, sign up for Lauren's emails here!
To learn more about Lauren Rowe & her books, visit here!
Connect with Lauren Rowe:
Hosted by:
Related Posts