🔥🔥 Check out Lesley Jones's HOT cover! All the Forbidden Things is releasing September 10th on Apple, Nook, and Kobo and exclusive to Amazon on September 12th! Preorder today!! 🔥🔥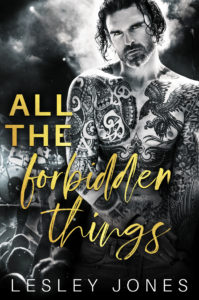 BOOK BLURB
When all that you want, is all that's forbidden…
I've known him my entire life.
Before marriage.
Before fatherhood.
Before betrayal.
Now, he's one of rock's bad-boys trying to be good.
Trying to be the best father he can for his daughter.
He's my brother's best friend.
He's my boss.
He has a wife.
Max isn't mine to have, but I want him all the same.
And I haven't survived all that I have to not go after what I want.
Her story is a tragedy, mine's a publicity disaster.
Just when I needed her most, she walked back into my life, and the timing couldn't be worse.
With a newborn baby, a divorce, an album to record, and a world tour to plan, I don't need the distraction.
She's off limits.
She's my best friend's little sister.
She's my nanny.
Billie's a golden drop of sexy sun on a grey autumn day, tempting me into the light and a life full of possibilities.
A life not meant for us.
Add to your Goodreads TBR: http://bit.ly/2YKvG2Q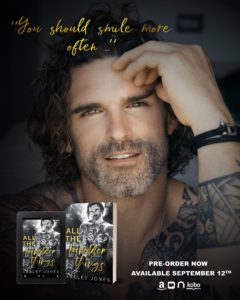 PREORDER LINK
iBooks|Nook|Kobo: https://geni.us/ALLOTHER
Amazon: https://geni.us/ATFT
ABOUT THE AUTHOR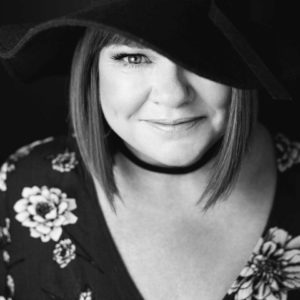 Lesley was born and raised in a small working-class town in Essex, just outside of East London. She's married with three sons and in 2006 they all moved to the other side of the world, settling on the beautiful Mornington Peninsula, about fifty kilometres outside of Melbourne, Australia.
Lesley is currently 'a stay at home mum', but in the past, she has worked at 'good old Mark & Spencer' for thirteen years and as a teacher's assistant.As well as writing, Lesley loves to read and has been known to get through four or five books a week, when she's not writing that is.
Her other interests are watching her boys play football… the round ball version. She's happy to admit to being an addict of social media and owes a lot to her Facebook and Twitter family in promoting her book. Lesley is also rather partial to a glass or bottle of wine, a nicely chilled Marlborough Sav Blanc being her favourite.
Being a born and raised Essex girl, she will happily admit being a big fan of spray tans, manis, pedis, and is regularly, waxed, tinted and sculpted, although she doesn't own a pair of white stilettos.
AUTHOR LINKS
Facebook Reader Group: bit.ly/LJBOOKBAR
Facebook Page: bit.ly/LJFBPAGE
Website: www.lesleyjoneswrites.com
Newsletter signup: http://bit.ly/NLSIGNUP
Amazon: http://geni.us/lesleyjonesamazon
BookBub: https://www.bookbub.com/authors/lesley-jones
Goodreads Author Profile: http://bit.ly/2hAfiOv
Twitter @LesleyKJones : http://bit.ly/2DIBCwo
Instagram: https://www.instagram.com/lesleyjoneswrites/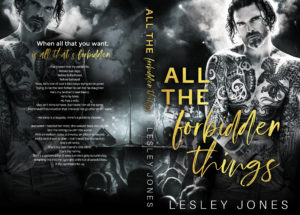 Related Posts